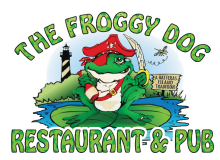 The Froggy Dog Restaurant, Avon NC
Big things are happening at The Froggy Dog, Avon's long-standing landmark restaurant. Over the last three decades, The Froggy Dog has grown into one of the largest Hatteras Island restaurants and is known for its ability to handle big groups and families. In 2019 Hatteras Island locals Julia Taft and her son, Blake Taft, bought The Froggy Dog and invigorated it with new menu items, new bar offerings, more event spaces, top-notch service and fresh ideas. Locals know this new ownership bodes well for The Froggy Dog, as the Tafts are the owners of Cups & Cones and Muffins & Scones, two of Avon's well-established and favorite eateries. 
Serving lunch and dinner daily, the new Froggy Dog focuses on friendly and professional customer service as well as top-quality, house-made fare. The kitchen makes nearly everything from scratch and uses as much fresh, local seafood as possible. Originally a hot dog stand, The Froggy Dog evolved long ago into a Hatteras Island seafood restaurant, and that has not changed. But there are also many other choices on the menu now, including sandwiches, steaks, burgers, pasta entrees, pork chops, prime rib and a Skinny Dipping menu with lighter fare. Gluten-free and vegetarian options are available, as is a kids' menu. The homemade desserts, brought in from Muffins & Scones, are not to be missed.
Event Space and Nightlife in Avon, NC
The Froggy Dog's classic, pub-like, wood-paneling interior remains, but an interior redesign makes this Avon, NC restaurant even more appealing. Now there is space for hosting Hatteras Island events and parties, including an upstairs private dining room for up to 40 guests and a downstairs dining room with its own private bar for events of up to 72 people. 
A redesign of the bar area will surely return The Froggy Dog to its status as a legendary place for Hatteras Island nightlife. Pub Trivia, Music Bingo and Karaoke, including Pirate Karaoke, are scheduled every week, offering adults something fun to do after 9 p.m. in Avon. With 13 TVs, a sports package, a late-night menu and an extensive selection of wines and craft beers, the bar is the spot for nightlife in Avon, NC.