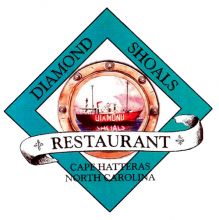 Diamond Shoals Restaurant in Buxton, NC
Diamond Shoals Restaurant sits just a mile north of the world-famous Cape Hatteras Lighthouse in Buxton, NC (next to the Red Drum Shopping Center). The Outer Banks seafood restaurant has been serving the finest local fare for decades, including an award-winning clam chowder. It also boasts Hatteras Island's only sushi bar.
Outer Banks Sushi on Hatteras Island
Diamond Shoals Restaurant boasts the only sushi bar on Hatteras Island. It's open on specific days throughout the week (usually Monday-Saturday). Sushi lovers themselves, owners Keith and Angela Gray refine their sushi menu constantly to include not just top-quality staples, but an array of original specialty rolls as well. From spicy tuna to the unexpectedly savory watermelon roll and beyond, Chef Keith is here to make sure every order served up is a work of art. Crafted exclusively with fresh seafood caught right here on Hatteras Island, sushi at Diamond Shoals Restaurant isn't just delicious, it's the epitome of authentic.