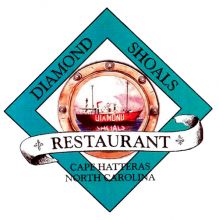 Outer Banks Restaurant in Buxton, NC
Diamond Shoals Restaurant sits just a mile north of the world-famous Cape Hatteras Lighthouse in Buxton, North Carolina. The Outer Banks seafood restaurant has been serving the finest local fare for decades, including an award-winning clam chowder. It also boasts Hatteras Island's only sushi bar.
Outer Banks Sushi on Hatteras Island
Discover Hatteras Island's only sushi bar at Diamond Shoals! Chef/Owner Keith Gray is on hand nightly and serving up an extensive sushi menu, made from only the freshest local seafood. From spicy tuna rolls to our outstanding spider rolls, sushi lovers can relax at the brand new sushi bar and lounge, or order a few rolls in the restaurant.