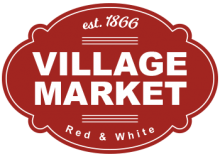 Village Market Red & White in Hatteras, NC
Fully Stocked Hatteras Grocery
This grocery store in the heart of Hatteras village, formerly Burrus Red & White, dates back to 1866 and was run by the same family for more than 150 years. Needless to say, it's a trusted community fixture. New owners fully renovated the store in the winter of 2018 and reopened in May 2018 with a new name – Village Market Red & White – but they still provide service with a smile and the neighborhood feeling that locals and visitors have come to love. This Hatteras grocer stocks fresh produce, meats, dairy and bread, along with all the frozen foods, pantry items, dry and canned goods, toiletries and household items that one would expect from a full-service grocery store. Prepared foods and hot lunches are available at the deli. The wine and beer offerings have been greatly expanded, and there are now hundreds of different wines and beers plus a walk-in beer cooler. 
Grocery Shop on Hatteras Island
With the expanded stock at Village Red & White, you can wait until you arrive to get all the groceries you need. Gone are the days when you had to load your car up with all your gear and luggage plus groceries you worried you couldn't find here. Our old-but-new Hatteras grocery store can now supply everything from staples to freshly caught seafood to paper towels to popular wines and beers! And if you don't feel like cooking, just head to our deli and bring home already-prepared lunches or dinners. Plus, as we've been one of the main hang-out spots in the village for a century and a half, if you want to spend some time on our porch and talk with other visitors or local friends, you can fill up that way too! We're a full-service grocery store in many ways!
We're the Historic Hatteras Grocery Store
Our store has stood on this site from its beginning. The Stowe family opened Hatteras Store and Co. here in 1866. The Burrus family later married into the Stowe family and added their name too. The original ledgers from the early days of business show what people bought back then – things like tobacco by the pound, salt pork, calf-skin boots, shot, cloth and pigs. Most of the trading was done with the barter system in those days.
It's said that the original wooden store building washed around a bit during the storms of 1899 and 1933, but it has always been on this site in Hatteras village. The current brick building was constructed in 1946 in front of the old one, which was then moved to another part of the village and used as a home. It has hence been torn down.