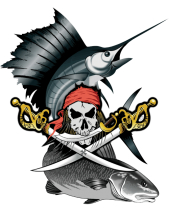 Outer Banks Kayak Fishing Charters
In just about any pursuit, local knowledge reigns. You can catch fish on the Outer Banks without it on account of the sheer abundance of life in our waters, but the process can be painstaking and the fruits often few. There's an indisputable advantage to having inside information. The success you'll experience fishing beside an Outer Banks expert will seem like magic relative to the trouble you might encounter on your own. Allow us, then, to introduce you to a team of magicians who take pleasure in revealing their secrets: The illustrious captains of Kinnakeet. They've been fishing the Outer Banks for decades apiece. Out of a full-service tackle shop in Avon, their mobile unit affords them access to over 200 miles of ripe territory. Whether you're a group of rookie anglers in need of hands-on support or you're a visiting fisherman, they're raring to show you where to find what you're looking for. 
Kinnakeet Guide Service specializes in inshore and offshore Outer Banks kayak fishing charters. They're the only Outer Banks operation to use Jackson custom kayaks, the dream pedal-driven fishing vessel. And to round out the dream, they outfit each one with top-of-the-line tackle, from game-changing electronics to the renowned JAW lures some species simply cannot resist. Equipped with the absolute best tools for the job, you'll be escorted to the day's most productive fresh or saltwater drop spots. After a half or full day fishing like a long-time local, you'll return home satisfied. Well, you'll return hungry, with catch in tow. The satisfaction will set in post-feast.
In addition to kayak fishing charters, Kinnakeet Guide Service offers traditional boat-based sportfishing charters, land-based shark fishing excursions, world-class tarpon fishing and even waterfowl hunting in-season. You'd be hard-pressed to name a species these pros can't pinpoint.
Outer Banks Tackle Shop in Avon NC
Kinnakeet Guide Service's tackle shop in Avon, NC is chock-full of pro-quality rods, reels, rigs and rides. They're dealers for Shimano, Penn International, Okuma, IRT and JAW, to name a few. These are brands you're not likely to find anywhere else on the Outer Banks. They also stock their own line of performance apparel.