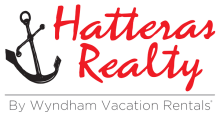 Outer Banks Vacation Rentals on Hatteras Island NC
Whether you are lured by the world class fishing or the east coast's best beaches, Hatteras Island has plenty to offer: beach-combing, swimming, kiteboarding, and fishing exist around nearly every corner. Cast your sights on over 70 miles of pristine Cape Hatteras National Seashore.
At Hatteras Realty, our specialty is providing the best possible Outer Banks family vacations. Our reservationists and property managers are ready to help you find your dream vacation home. Best of all, we will make the process easy and stress free! No matter how big or small, we're ready to tackle any request with a smile.
Our large selection of vacation homes are situated in some of the best locations on the island. Rest assured we have the perfect property for you. And with offices in Avon, Hatteras and Waves, we're easy to find and convenient to your property location.
Hatteras Island is simply a one of a kind place and Hatteras Realty is a one of a kind Outer Banks vacation rental company. Come see for yourself!