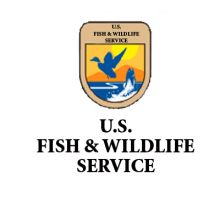 Located on the north end of Hatteras Island, this refuge was established in 1938 for the protection of wildlife, especially migratory waterfowl. Stretching twelve miles from the Oregon Inlet to Rodanthe, it encompasses 6000 acres of land and 25,700 acres of boundary water of the Pamlico Sound, where hunting is off-limits. Pea Island is named for the wild pea vine which grows in there abundance.
Truly a ''birder's paradise,'' it is a haven for more than 265 species of birds such as Canada and snow geese, more than 25 species of duck, tundra swan, heron, egret, tern, and many other birds that pass through during fall and spring migrations. Several platforms are provided for free observation of the diversity of wildlife found on the refuge. A hiking trail is available or a walk along any beach on Pea Island gives visitors all that is needed to see the islands' shorebirds and waterfowl.
Overhead, the Laughing Gulls (with black caps on) and the larger, grey Herring Gulls ride the warm air currents. The Brown Pelicans soar overhead in groups, looking for their dinner in the waters below. Once they spot it, they dive in to scoop it up in their expandable bill pouch. Surfacing, they tilt their head back and swallow dinner whole! The osprey hunts for his meal in a similar fashion, except he grabs his prey in his powerful talons and flies back to his home - that pile of sticks on a dead tree limb.
You can learn more about Pea Island National Wildlife Refuge at the National Wildlife Refuges Gateway Visitor Center on Roanoke Island. The visitor center offers numerous hands-on and interactive exhibits on Pea Island National Wildlife Refuge plus 10 other regional refuges and one National Fish Hatchery.  The Visitor Center is on the north end of Roanoke Island, about a quarter-mile from the entrance to Fort Raleigh National Historic Site. It's open from 9 a.m. to 4 p.m. daily, and admission is free.