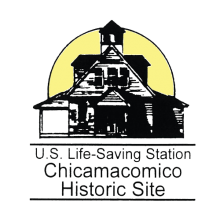 Chicamacomico is a very special place!
- It sits at the most eastern point in North Carolina.
- It the largest, most complete USLSS complex in the nation.
- One of the few USLSS sites in the nation with all its original buildings.
- All buildings on the National Register of Historic Places.
- One of 39 destinations listed by the Outer Banks Scenic Byways.
- Has one of only two 1874 USLSS stations in the nation open to the public.
- Was the first operational station in North Carolina.
- Now the only USLSS site in the state open to the public as a museum.
- Is a 501(c)(3) nonprofit in no government budget.
- Is the only place anywhere to regularly perform the full Beach Apparatus Drill…and most importantly,
- The scene of the most highly-awarded maritime rescue in American history! (SS Mirlo, August 16, 1918).
The Chicamacomico Historical Association is a private, 501(c)(3) non-profit organization whose purpose is to restore, preserve and interpret the buildings and history of Chicamacomico Life-Saving Station, as well as the U.S. Life-Saving Service and its successor, the U.S. Coast Guard on the Outer Banks. The Association owns and operates the museum site and the museum shop and raises its own funds. 100% of all admission fees, gift shop purchases, memberships, and donations go directly to the preservation, restoration, and operation of this historic site.