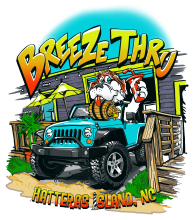 Drive-Thru Beverage and Convenience Store in Avon
Welcome to Breeze Thru, your one-stop convenience store and drive thru, located at Milepost 55 in Avon, North Carolina. Family-owned by the Kirks since 2007, Breeze Thru's mission is to offer residents and vacationers a wide variety of products. We offer all you'd expect from a convenience store, but with so much more! The Breeze Thru General Store offers breakfast and lunch items, tobacco and vaping products, t-shirts and hats, prepaid cell phone minutes and accessories, sunscreen, lottery, ATM, propane, firewood, 5-gallon water jugs and more. Free air for tires and Sunoco gas and diesel are also available on site. You must try our new fresh smoothie machine. The smoothies are as much fun to make as they are delicious to drink; the only one on the island!!

The Breeze Thru Drive Thru, offers an extensive selection of beer, including craft and local beers, hard seltzer, teas, and ciders, and popular beverages including energy and coffee drinks. Our staff will greet you with fast and friendly service and load your car with drinks and ice; you don't even have to get out of your vehicle.

Imagine for a moment…One stop for gas, drinks, ice for the coolers, sandwiches for lunch, a cup of coffee, sunscreen and the enjoyment of a drive-thru experience. Gotta do the Breeze Thru!
We Sell Kegs!
If you're looking for kegs for a special event or gathering, look no further. We are the only store on Hatteras Island that sells kegs.
Check out our order kegs page and reserve a keg today!
We're open year-round, 7 Days a Week, 7 a.m. - 9 p.m. (subject to change in the off-season)