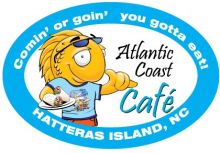 GREETINGS FROM ATLANTIC COAST CAFÉ! 
Welcome to the ACC 2021 - our 16th season on Hatteras Island! Last summer we were totally takeout and curbside pickup. This year we can still pack your orders to go AND we can seat you comfortably and safely outdoors! Same great food and awesome service as always. We've trimmed down our menu a bit but if you have a favorite that isn't on the menu, just ask. We may still be able to accommodate.
We are anxious for a return to the "old days" of welcoming you inside and chatting with you, smile to smile. Until we can get fully back to that, please know that we ARE smiling behind the masks and we are happy to serve you! We have updated our "technology" with hand held units and improved online ordering (hopefully) so we can make things smoother for you to order and enjoy your meal, whether you are calling in take out or grabbing a spot outside. We still answer the phone so you can always reach us (252) 987-1200.
OUTDOOR DINING - Grab a menu at the front door, seat yourself or wait on the front porch and we'll come out to take your order - then sit back and enjoy the ocean breeze and salt air while we prepare your order - we'll bring it out to you wherever you are seated. 
TAKEOUT/PICKUP - Just give us a call or order online. For pickup, we'll bring the order right out to your car.
ONLINE ORDERING (this is your live link - probably want to open the menu first). If online ordering is having a bad day, i.e., experiencing tech problems, just give us a call at 252-987-1200.
Hours: 8 am - 8 pm (closed Mondays) 
Check our Facebook page for the latest news and updates!
SOME THINGS HAVEN'T CHANGED
Breakfast is served until 11 am - and breakfast sandwiches and the breakfast wrap can be ordered all day. 
Lunch & Dinner -- Enjoy fresh seafood, our unique reubens and wraps, our fantastically popular grilled fish tacos and tuna wraps, freshly made burgers and great selection of sandwiches. 
Kids menu features burgers, chicken strips, shrimp plate, grilled cheese, PB&J.
Refreshing smoothies, fresh coffee or chai tea cafe latte/mocha freezes are available all day. 
Sodas and beer also available to go.
Visit us in WAVES in Hatteras - just across Hwy 12 from the KOA!
The Atlantic Coast Cafe Menu
The Atlantic Coast Cafe Waves complete menu is posted on our website so check us out!  While you're here, you'll want to check out the many customer reviews posted on the "Customer Comments" tab.  You will also find reviews on Yelp and other online sites. 
LIKE US on FACEBOOK for special coupons and to join the conversation about good food and events on Hatteras Island. Visit us in WAVES in Hatteras - just across Hwy 12 from the KOA. We look forward to serving your Hatteras restaurant needs!