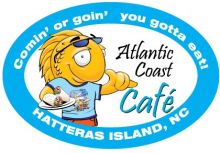 GREETINGS FROM ATLANTIC COAST CAFÉ! 
Things are going to be a little different this 2020 season as we adjust to a TOTALLY TAKEOUT / CURBSIDE PICKUP routine. We've had to slim down our 2020 menu just a bit. We're accepting orders by phone as usual – and now, we can also take your order online! Of course, we are following CDC and industry guidelines for cleaning and sanitizing all aspects of our operation, facility management and food safety. The biggest change is that we can't serve you inside, chat with you and enjoy the great vibe you bring into our restaurant. But we've done great takeout for years, so overall, we feel like "we've got this." Here's how it will go:
ORDERING PROCEDURE – Simply place your order by phone or online. We will take payment at that time and provide an estimated time your order will be ready. Or you can place your order early in the day and request that it be ready later in the day. 

PICKUP PROCEDURE – We will bring your order out to you – directly to the parking lot. Staff will be wearing face masks and gloves. 
We're working hard to make sure you can continue to expect Great Food ~ Awesome Service from the ACC! We're all in this together, so we'll be counting on you to let us know how we're doing – the good and the problematic. Our goal is to make this work for everyone so that this "new normal" still feels like a great day on Hatteras Island! 
Hours: CLOSED for the 2020 Season. 
Check our Facebook page for the latest news and updates!
SOME THINGS HAVEN'T CHANGED
Breakfast is served until 11 am - and breakfast sandwiches and the breakfast wrap can be ordered all day. 
Lunch & Dinner -- Enjoy fresh seafood, our unique reubens and wraps, our fantastically popular grilled fish tacos and tuna wraps, freshly made burgers and great selection of sandwiches. 
Kids menu features burgers, chicken strips, shrimp plate, grilled cheese, PB&J.
Refreshing smoothies, fresh coffee or chai tea cafe latte/mocha freezes are available all day. 
Sodas and beer also available to go.
Visit us in WAVES in Hatteras - just across Hwy 12 from the KOA!
The Atlantic Coast Cafe Menu
The Atlantic Coast Cafe Waves complete menu is posted on our website so check us out!  While you're here, you'll want to check out the many customer reviews posted on the "Customer Comments" tab.  You will also find reviews on Yelp and other online sites. 
LIKE US on FACEBOOK for special coupons and to join the conversation about good food and events on Hatteras Island. Visit us in WAVES in Hatteras - just across Hwy 12 from the KOA. We look forward to serving your Hatteras restaurant needs!