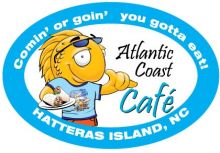 GREETINGS FROM ATLANTIC COAST CAFÉ! 
Welcome to the ACC 2022 - our 17th season on Hatteras Island! Great Food & Awesome Service will always be our goal every day with every customer and every meal we serve. Thankfully, the many pandemic-related mandates have been relaxed and 100% occupancy is back! Staffing may be a little light to start the season but as always, our food is freshly prepared and served with your enjoyment in mind!
We still feature a full menu of your favorites . . . hot and fresh breakfasts — pancakes, omelettes, the Monte Cristo, Hatteras Breakfast Wrap, fresh coffee and breakfast sides. Lunches and dinners showcase stuffed grilled wraps, tasty burgers, unique Reubens (crab cake, shrimp, classic), our famous marinated or Cajun grilled tuna, delicately fried seafood and chicken strip baskets, grilled fresh seafood dinners and our signature double-shelled fish tacos. 
INDOOR and OUTDOOR SEATING – Enjoy your meal in the restaurant or on our side deck (pets welcome). Just order inside and we will bring your order to you wherever you are seated. 
TAKEOUT/PICKUP - Our full menu is available "to go" - just give us a call (252) 987-1200 and we'll have it ready for you when you arrive.  
NOTE ABOUT ONLINE ORDERING - online ordering has been discontinued as it was causing our customers and kitchen staff way too much frustration. At the beach, frustration is the LAST thing you want to deal with at any time, but especially when you're hungry.
Hours: 8 a.m.-8 p.m. (Closed Mondays) 
Check our Facebook page for the latest news and updates!
SOME THINGS NEVER CHANGE
Breakfast is served until 11 am - and breakfast sandwiches and the breakfast wrap can be ordered all day.  
Kids menu features burgers, chicken strips, shrimp plate, grilled cheese, PB&J.
Refreshing smoothies, fresh coffee or chai tea cafe latte/mocha freezes are available all day. 
Sodas (soft and hard) and beer also available to go.
Visit us in WAVES in Hatteras - just across Hwy 12 from the KOA!
The Atlantic Coast Cafe Menu
The Atlantic Coast Cafe Waves complete menu is posted on our website so check us out!  While you're here, you'll want to check out the many customer reviews posted on the "Customer Comments" tab.  You will also find reviews on Yelp and other online sites. 
LIKE US on FACEBOOK for special coupons and to join the conversation about good food and events on Hatteras Island. Visit us in WAVES in Hatteras - just across Hwy 12 from the KOA. We look forward to serving your Hatteras restaurant needs!