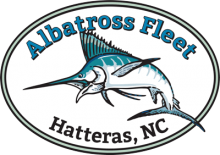 The Albatross Fleet of Hatteras has been taking people fishing since 1937! These boats offer a unique experience of local heritage combined with modern technology. With their open cockpits, soft rides and quiet engines, anglers are given a great sense of the ocean and an unforgettable experience. Captain Ernie Foster, Captain Bryan Mattingly and Captain Craig Waterfield are all experienced and knowledgeable local watermen who encourage angler participation and a good time.
Tipping and fish cleaning are two hidden costs of the trip. Returning to the dock after a successful day, most of our customers do not think about cleaning their fish. They are usually tired after such a long day and want to head home instead of cleaning their catch. We provide fish cleaning services for a reasonable fee that is not included in your charter fee. These rates are posted at the dock and worth it if you're unsure of how to clean your catch.
Our mates work for tips, regardless of whether we catch fish or not. It will be obvious by the end of the day how much effort your mate has put in to seeing that you have a great day on the water. The typical tip is 20% and isn't included in your charter fee.